link:
https://www.youtube.com/watch?v=8iMMoGuUxks
01. Paradigm Shift — 00:00

 02. Osmosis — 08:55

 03. Kindred Spirits — 12:21

 04. The Stretch — 18:51

 05. Freedom Of Speech — 20:52

 06. Chris And Kevin's Excellent Adventure — 30:11

 07. State Of Grace — 32:33

 08. Universal Mind — 37:35

 09. Three Minute Warning, Part 1 — 45:28

 10. Three Minute Warning, Part 2 — 53:48

 11. Three Minute Warning, Part 3 — 57:51

 12. Three Minute Warning, Part 4 — 1:03:10

 13. Three Minute Warning, Part 5 — 1:07:31
Liquid Tension Experiment (abreviado y también conocido como LTE) es un supergrupo de metal progresivo instrumental de Estados Unidos que se concibió a finales de 1996, cuando Mike Portnoy (exbatería de Dream Theater) recibió una petición de su discográfica, Magna Carta, para formar una banda compuesta por grandes talentos del rock progresivo. Para llevar a cabo este proyecto Portnoy fue interrogado con respecto a con qué músicos había querido grabar siempre, y tras algunas negociaciones se concretó quiénes serían los componentes del grupo:
Tony Levin: experimentado bajista, icono del rock progresivo, integrante de King Crimson y que ha colaborado junto a artistas como Peter Gabriel. En algunos temas de la banda, como por ejemplo "Osmosis", demuestra su talento con un instrumento de alta complejidad como lo es el Chapman Stick.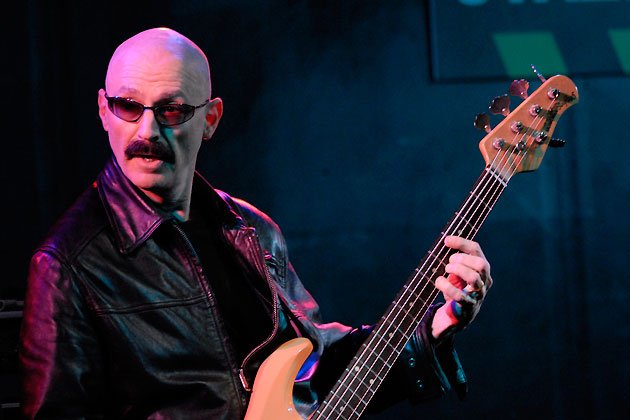 John Petrucci: reconocido guitarrista, excompañero de Mike Portnoy en Dream Theater. Ha compartido la tarima con Joe Satriani y Steve Vai en la extravagante gira guitarrística G3.


Jordan Rudess: actual teclista de Dream Theater, compositor y productor. Antes tocó con Steve Morse, Vinnie Moore, Dixie Dregs y el baterista Rod Morgenstein.



Mike Portnoy: baterista, excomponente del grupo Dream Theater, O.S.I. y Transatlantic. Galardonado cada año desde 1995 hasta el 2006 como el mejor baterista de rock progresivo por la revista Modern Drummer.

Para el momento en que se creó Liquid Tension Experiment, Rudess aún no formaba parte de Dream Theater. A pesar de que algunos formulan la teoría de que fue invitado a unirse a causa del éxito de Liquid Tension Experiment, es sabido que él ya había rechazado una oferta para integrarse en 1994, ocasión en la que se volvió miembro de Dixie Dregs en vez de Dream Theater.
La música que realiza la banda es enteramente instrumental, y puede enmarcarse dentro del metal progresivo.
Liquid Tension Experiment lanzó dos álbumes, Liquid Tension Experiment (1998) y Liquid Tension Experiment 2 (1999), a través de Magna Carta. También hicieron algunos espectáculos en directo en Nueva York, Filadelfia y Los Ángeles. Mike Portnoy ha declarado en numerosas entrevistas (y en el FAQ de su sitio web) que no habrá un tercer álbum de LTE, pues la mitad de la banda ahora está en la alineación de Dream Theater. Sin embargo, varias canciones y riffs han sido incorporados en las presentaciones en directo de Dream Theater, como por ejemplo el medley instrumental de Live at Budokan.
En el año 2007 se edita un nuevo disco bajo el nombre de "Liquid Trio Experiment", conformado por antiguas grabaciones que Mike Portnoy tenía guardadas. Todas las melodías son sesiones de improvisación realizadas durante la grabación de "Liquid Tension Experiment 2" en la ausencia de Petrucci, que estaba pendiente del nacimiento de su hija. El nombre "Liquid Trio Experiment", que sigue manteniendo las siglas LTE, se debe precisamente a la ausencia del guitarrista.
Durante 2008 se edita un disco en vivo de Liquid Trio Experiment llamado When the Keyboard Breaks, grabado durante un show en Chicago, EE UU, en el cual el teclado de Jordan Rudess sufre una grave avería. Los músicos restantes se prestan a iniciar una larga sesión de jams de aproximadamente una hora mientras Rudess, junto a sus técnicos, trata de reparar su instrumento. Este disco es la grabación de dicho jam, con algunos cortes.
link:
https://www.youtube.com/watch?v=qzZulX2GuVc
Tracklist:
 01. Acid Rain — 00:00

 02. Biaxident — 06:36

 03. 914 — 14:17

 04. Another Dimension — 18:18

 05. When The Water Breaks — 28:08

 06. Chewbacca — 45:06

 07. Liquid Dreams — 58:41

 08. Hourglass — 1:09:32
Liquid en vivo




link:
https://www.youtube.com/watch?v=Haaf2TKYUuc
1. Acid Rain 0:00

2. Kindred Spirits 11:34

3. Biaxident 19:30

4. Freedom of Speech 27:03

5. Improv Jam #1 35:58

6. Another Dimension 44:25

7. State of Grace 54:30

8. Universal Mind part 1 1:00:49]

9. Keyboard Solo 1:04:25

10. Universal Mind part 2 1:09:09

11. When the Water Breaks 1:13:50

12. Improv Jam #2 1:31:45

13. Rhapsody in Blue 1:44:30

14. Osmosis 2:00:15

15. Paradigm Shift 2:06:10
Liquid Trio Experiment


Liquid Trio Experiment – Chris & Kevin's Bogus Journey



https://www.youtube.com/watch?v=RdZM6ZRwZAU


HOT ROD


link:
https://www.youtube.com/watch?v=AholYrjJfKs
RPP


link:
https://www.youtube.com/watch?v=6xyYWzrZUdU
Haguaian Fank


link:
https://www.youtube.com/watch?v=1kLFqjWCZPE
Capuchino


link:
https://www.youtube.com/watch?v=7j4rQS6rDwU
Jas Odisey


link:
https://www.youtube.com/watch?v=lfWFTcF9Y-k
FIRE DANCE



GIF
link:
https://www.youtube.com/watch?v=afHJJOAS4OI
The Rubberband Man


link:
https://www.youtube.com/watch?v=5fcGSVd6uDM
Tony's Nightmare


link:
https://www.youtube.com/watch?v=RTb0qkJDK8A
Holes


link:
https://www.youtube.com/watch?v=m3H-_pBuuB8
Bloom Bloom


link:
https://www.youtube.com/watch?v=GMKLr-RIj6M
Return Of The Rubberband Man


link:
https://www.youtube.com/watch?v=Z6AxlV8-bxo
Disneyland Symphony


link:
https://www.youtube.com/watch?v=F6oLj3Wv8Vw
Liquid Trio Experiment 2 "When the Keyboard Breaks (Live in Chicago)" (2008)




Universal Mind


link:
https://www.youtube.com/watch?v=SfiqXBCu8Wo
The Chicago Blues and Noodle Factory


link:
https://www.youtube.com/watch?v=HKY4ijhoA1Q
Fade Away Or Keep Going
link:
https://www.youtube.com/watch?v=xx-OJq9DpVo
The Haunted Keyboard


link:
https://www.youtube.com/watch?v=uxac23_gIEw
Close Encounters Of The Liquid Kind part 1


link:
https://www.youtube.com/watch?v=9pAEeWRCrlM
PARTE 2
link:
https://www.youtube.com/watch?v=n4pV3jm0NI8
Ten Minute Warning
link:
https://www.youtube.com/watch?v=KKS266RXoRk
Liquid Anthrax


link:
https://www.youtube.com/watch?v=Hc3i9GdVLsI
That's All Folks


link:
https://www.youtube.com/watch?v=e9CPcI72zBM